The Johns Hopkins Center for Health Security in partnership with the World Economic Forum and the Bill and Melinda Gates Foundation hosted Event 201, a high-level pandemic exercise on October 18, 2019, in New York, NY.
The exercise illustrated areas where public/private partnerships will be necessary during the response to a severe pandemic in order to diminish large-scale economic and societal consequences.

Source: https://www.centerforhealthsecurity.org/event201/
Event 201 Trailer (Taken from Plandemic II )
All Episodes
Monoclonal Antibodies

Source: FDA
Yes, the FDA approved monoclonals for COVID19 treatment one year after the start of the Pandemic. However monoclonals were seldom used, because if they were, there wouldn't have been a pandemic. Almost ALL COVID related deaths, could've been avoided.
The data supporting this EUA for bamlanivimab and etesevimab are based on a randomized, double-blind, placebo-controlled clinical trial in 1,035 non-hospitalized adults with mild to moderate COVID-19 symptoms who were at high risk for progressing to severe COVID-19. Of these patients, 518 received a single infusion of bamlanivimab 2,800 milligrams and etesevimab 2,800 milligrams together, and 517 received placebo. The primary endpoint was COVID-19 related hospitalizations or death by any cause during 29 days of follow-up. Hospitalization or death occurred in 36 (7%) patients who received placebo compared to 11 (2%) patients treated with bamlanivimab 2,800 milligrams and etesevimab 2,800 milligrams administered together, a 70% reduction. All 10 deaths (2%) deaths occurred in the placebo group. Thus, all-cause death was significantly lower in the bamlanivimab 2,800-milligram and etesevimab 2,800-milligram group than the placebo group.
Source: FDA
And this without the known side effects of the experimental gene based "vaccine" clot shot, like Anaphylaxis, Thrombosis, Guillain-Barré Syndrome, Myocarditis and Pericarditis and on and on plus the still unknown ones in the long term.
SAFE AND EFFECTIVE 🤡
Even Fauci mentioned monoclonals:
Early use of monoclonal antibodies can cut risk of hospitalization, death up to 85%
Other studies and articles:
…appears to reduce the risk that people infected with COVID will be hospitalized for more than a day or die by 79 percent. A two-antibody cocktail from Regeneron called casirivimab/imdevimab appears similarly effective, reducing the risk of hospitalization and death by 70 percent.
Adverse events that have been observed have been injection site reactions with subcutaneous administration and transfusion-related reactions. Few cases of anaphylaxis have been reported
Table 3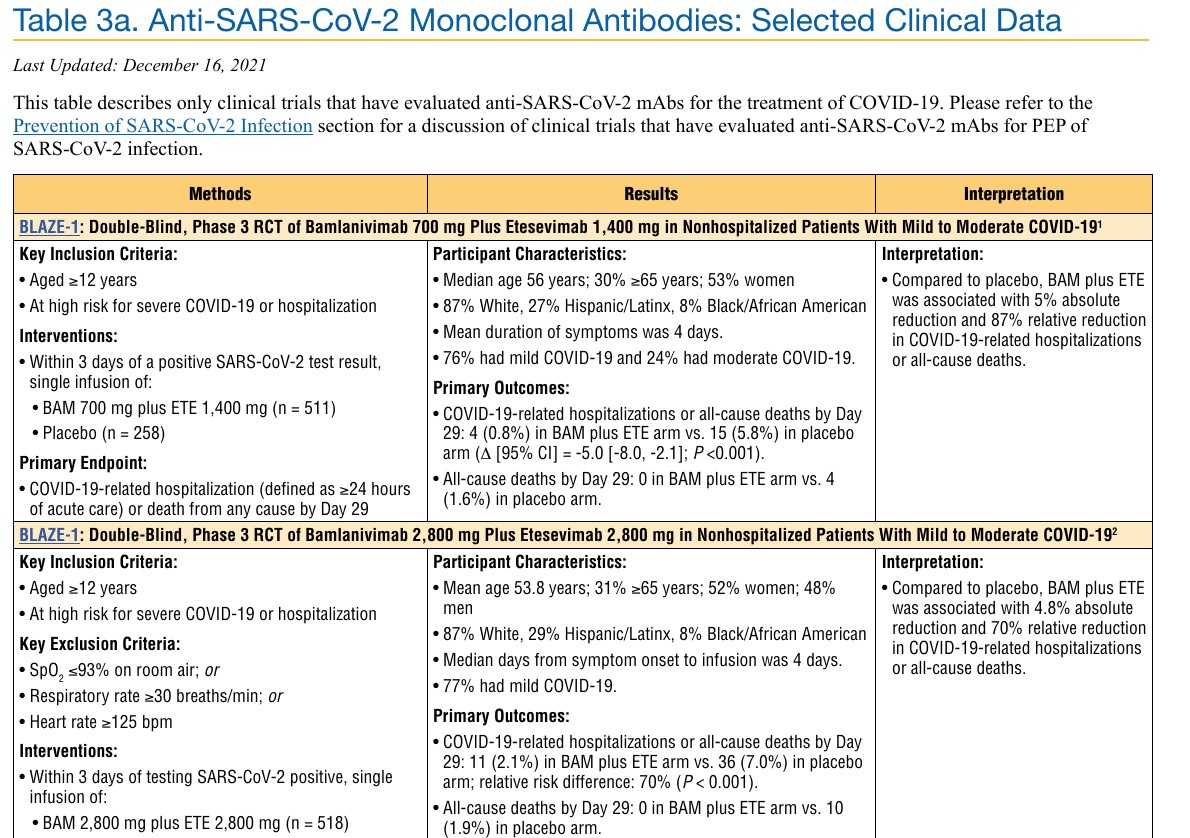 BUT STILL many physicians never heard of monoclonals…
Again, most of the COVID19 patients who died "from/with covid" were murdered by ignorance, negligence, incompetence, cowardice, or deliberately, because monoclonals were NOT administered.
Come on man, how could we know that monoclonals would help against covid a "new virus"?
He is the Director-General of the Chinese Center for Disease Control and Prevention (Chinese CDC); a Professor in the Institute of Microbiology, Chinese Academy of Sciences; President of the Chinese Society of Biotechnology; and President of the Asian Federation of Biotechnology (AFOB).
On October 18, 2019, in New York, NY, Event 201 👇
MIC DROP. 👋 🎤
It's not vaccinated vs. unvaccinated, it's untreated vs. (early) treated.
---
Comment anonymous here 👇 or get a Token per email, either way, no account required.