Freedom Convoy Spokesperson Benjamin Richter on Trucker Carlson 🚚 🛻 [Video]
Not only did Dichter highlight the issue of vaccine mandates undermining the constitutional freedoms of Canadians all over the country, but also why vaccinated Canadians, like himself, should be extremely worried about breaches in their privacy from the Arrivecan app.

The Arrivecan is a Canadian government phone application that Canadian travelers going through airports and over the border, including truckers, are required to verify their vaccine status with in order to pass.

Dichter explains his own experience using the app to Tucker and how it was explained to him that he did not even need his QR code scanned by Border guards because the app allowed them to monitor him approaching the border.
Source: thenationaltelegraph.com
Found that video through Benjamin Richters Twitter 👇
Thank you @TuckerCarlson and thank you Samantha you were wonderful and beyond helpful. #FreedomConvoyCanada #TruckerConvoy2022 #Freedom https://t.co/McaAdVtyMK

— That Guy (@BJdichter) January 28, 2022
Also found another great supporter of the freedom convoy #ThankATrucker 🤡 👇
While many of us are working from home, there are others who aren't able to do that - like the truck drivers who are working day and night to make sure our shelves are stocked. So when you can, please #ThankATrucker for everything they're doing and help them however you can.

— Justin Trudeau (@JustinTrudeau) April 1, 2020
The "Fringe" Minority 🇨🇦 👇
Courtesy of Rebel News and 👇
Coffees, pocket warmers, Tim Hortons gift cards, and homemade goods brought from all across Canada are among the things being disturbed to the truckers.

The truckers say they are here to stay and not leaving until segregation is abolished.

Check out https://t.co/Apz9xNQUhJ pic.twitter.com/i8P6YtCvmY

— Mocha Bezirgan (@BezirganMocha) January 29, 2022
Freedom Fighters' GoFundMe
Tamara Lich and B.J. Dichter are organizing this fundraiser.
We cannot achieve our goals if there are threats or acts of violence. This movement is a peaceful protest and we do not condone any acts of violence.

👉 https://www.gofundme.com/f/taking-back-our-freedom-convoy-2022

If you made any sort of donation to the Ottawa convoy gofundme account, you have a very ample opportunity to stick it to them right now. By taking your funds and placing them elsewhere, they have committed fraud plain and simple. I see a lot of posts right now saying people are trying to get refunds through the company themselves, that makes no sense. You wouldn't ask a thief kindly to give your wallet/purse back would you?

Don't bother filing for a refund, save your time and file for a charge back with your bank or credit provider.

Charge back fines equal $20-100 PER CHARGE BACK, with the more charge backs filed equaling a higher fine.

Not only do you get your money back, but you hit them where it hurts. You have an incredible once in a lifetime chance here to really hurt this organization which has a history of doing shady shit like this.

Fuck em, they chose their stance, make em regret it.

Edit: Your donation was to be used for a specific purpose and they failed to uphold their end of the agreement of the transaction. Not only are they not giving the money back, but they are giving it out where they see fit.

Edit 2 (from competitionfederal99): Specifically its called a Regulation E claim. Your bank will alot of times refer you back to the merchant saying they can't do anything but be very specific "this is not a valid charge and I need to file a regulation E claim"

The bank will be in violation of federal law if they do not initiate an investigation into the claim.

There may be some loophole where what gofundme is doing is legitimately acceptable like withholding funds from a suspected terrorist organization, but they will have to pay the fee associated with the claim regardless of whether or not you get your money back.
New Crowd Funding started @GiveSendGO
However they're getting DDOS'ed to oblivion…
We have been under heavy DDOS and bot attacks. In spite of all of this we still have managed to raise funds 5X faster than the gfm did. GFM raised 10mil in 3 weeks. GSG campaign has already raised over 1.1mil in just over 12 hours!

— GiveSendGo (@GiveSendGo) February 5, 2022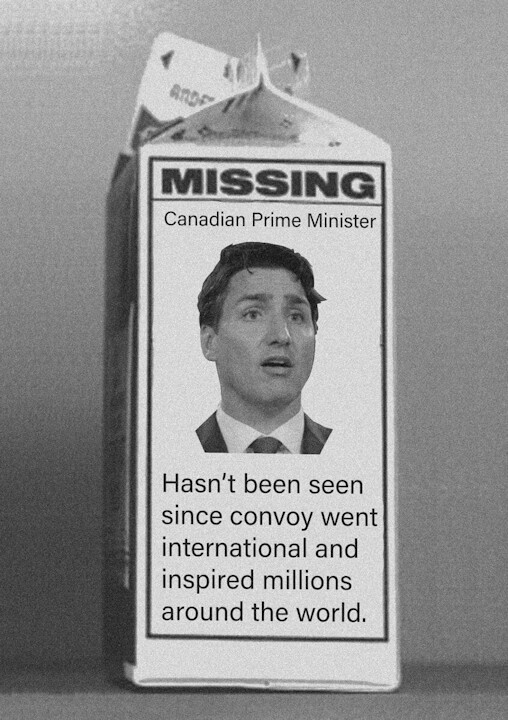 Have You Seen This Man?
#ThankAParkstar - Thank you u/parkstar86 ❤️
Police in Ottawa, Canada threaten to arrest truckers 🚚 🚚 🛻 🛻 🗽
---
Comment anonymous here 👇 or get a Token per email, either way, no account required.